VELOSPEEDER
 Ultralight e-motor for bicycles – retrofittable

FOR COMMUTERS
Riding longer distances in a shorter time with compensation for terrain conditions. Cycle commuters with a light motor option, which can be activated on demand, cycle in a sporty, relaxed manner in predictably shorter travel times over longer distances and more mountainous route profiles. More riding comfort motivates for more movement outside. Cycling with pleasure invites you to use the bicycle as a means of transport on a daily basis. The VELOSPEEDER creates more possibilities in everyday life to extend the radius of action on a timeless light bike in a modern way.
FOR TOURING CYCLISTS
Safety and comfort on slopes and in windy conditions. Extend your radius of action. A lightweight motor offers touring cyclists more safety on long distances, on slopes, and in headwinds. With motor support, you can cycle actively for the most part and master the terrain more easily. A motor should help with the pedalling without taking most of the cycling away from you. The aim is to make you master obstacles and ride as comfortably as possible with your own activity. The VELOSPEEDER makes it possible to discover unknown terrain spontaneously and easily.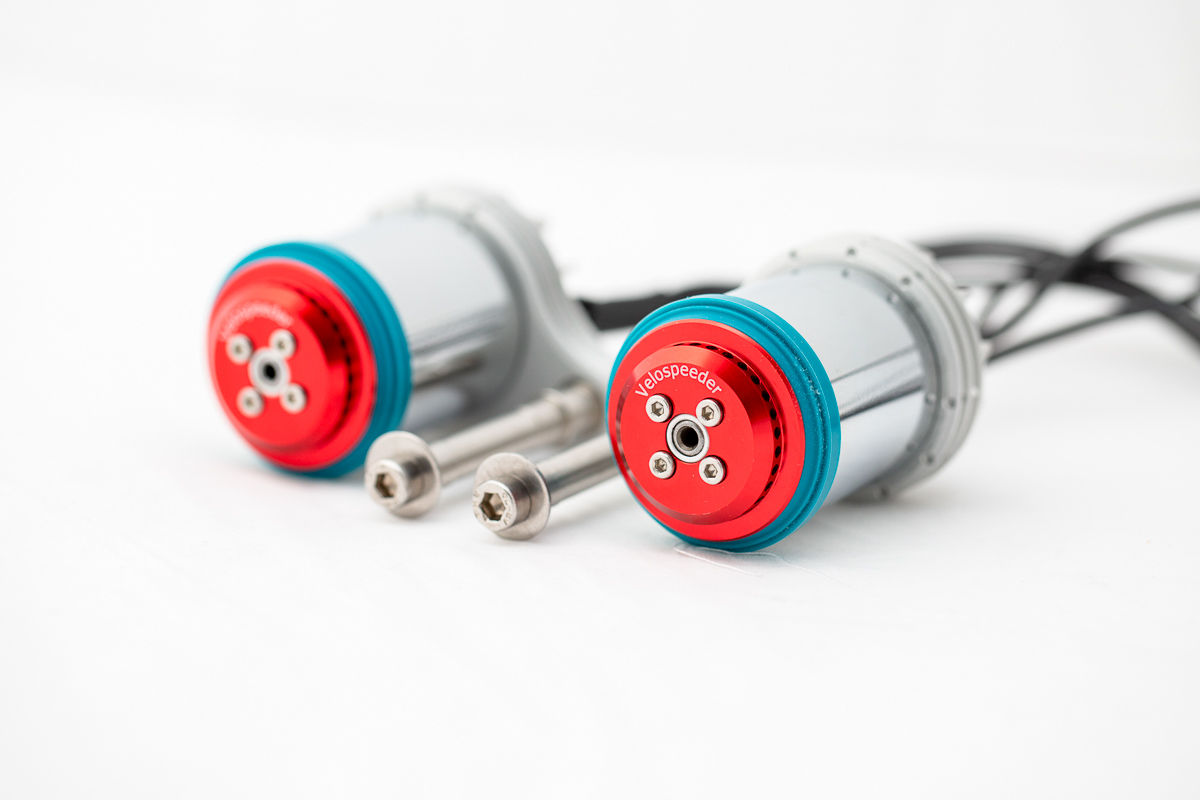 With the VELOSPEEDER the classic bicycle becomes a light e-bike.
A masterpiece of German engineering:
Kit for retrofitting bicycles
Customised configuration
Powerful mobility over long distances
No disturbing side effects
Foldable, no friction resistance
Minimal wear, resilient under continuous operation, durable
Easily portable, ideal for city dwellers
Weight advantage + optimum efficiency
Power-Package
Powerful mobility over long distances
Propulsion starting from walking speed
Low battery consumption
Acoustic charge level indicator
Gentle charging
Impressive Weight
Additional weight approx. 1.6 – 2.5 kg
per version motor type / battery
(incl. peripheral parts, without charger)
Approx. one fifth of the total weight of conventional pedelec drives
Easily portable, ideal for city dwellers
On Duty
Can be activated in seconds
Foldable, no frictional resistance,
No disturbing side effects
Retrofittable
A Talent
Whisper quiet sound
Temperature management
Manual current control
Smooth downshifting beyond the final speed
Control with sinus controller
Electrical safety
Individual engine control
Longevity
Continuous operation feast,
Minimal wear,
Friction ring change after approx. 8000 km
Manufacture quality with stable value
Transferable to other bikes with new motor mounts (frame specific)
Sustainability & Construction
Highly efficient with minimal raw material consumption
Moving parts are reduced to a minimum
Most parts can be replaced individually
Universally combinable modular system
Installation discreetly inconspicuous
Miniaturised motor design
Unique autoregulated contact pressure

LONG DISTANCE TOUR
---
For tours with an altitude difference from approx. 50km / 31mi per route
Weight 2.5kg
Battery type C 313Wh
Range approx. 60 to 70km /
37 to 44mi
Engine type 3135
5 to 27kph / 3 to 17mph
Factory setting 25kph / 15.5mph
Plus assembly / shipping
SHORT DISTANCE COMMUTERS
---
For commuter routes up to approx. 35km / 22mi each way
Weight 1.6kg
Battery type B 188Wh
Range approx. 32 to 38km /
20 to 24mi
Engine type 3125
5 to 27kph / 3 to 17mph
Factory setting 25kph / 15.5mph
Plus assembly / shipping
LONG DISTANCE COMMUTER
---
For long and speedy commuter distances
Weight approx. 2kg
Battery type C 313Wh
Range approx. 60 to 70km /
37 to 44mi
Engine type 3125
5 to 35kph / 3 to 22mph
Factory setting 25kph / 15.5mph
Plus assembly / shipping
Arrange a test ride – phone +49 177 7820849
Appointments by prior agreement
Send us photos of your bike to team@velogical.eu
We will make you a suitable offer.
Yesterday I took part in an ADFC winter / spring tour (85 kilometers / 650 meters in height). I only used the motor on longer climbs or when I felt overwhelmed in view of the sporty superiority of my fellow cyclists. Remaining capacity of the battery at the end of the tour: 3 beeps. (...) The result was absolutely convincing! This makes the choice of your motor a complete success for me!