Discover the possibilities of VELOGICAL products
E-BIKE MOTOR
With the retrofittable VELOSPEEDER, the classic bike becomes a lightweight e-bike. Cover distances easily with support. Easily master slopes and wind. Two electric motors, arranged in pairs, drive the rear wheel. The VELOSPEEDER was developed for commuting and touring cyclists. The motor concept supports effectively and reliably with minimal wear. The entire drivetrain is spared instead of being stressed more than usual. With a great weight advantage, a bike with VELOSPEEDER remains easily transportable and easy to manoeuvre. The motor, which can be switched on depending on the situation, encourages you to ride further distances more often. Beyond the motor's final speed, the control regulates gently. At higher speeds, it runs smoothly under its own power. The motor can be switched on or completely disconnected from the handlebars in a matter of seconds. Then the bike rolls smoothly, without any additional frictional resistance. Ride at the forefront in the age of electric mobility with the VELOSPEEDER!
VELO ON-BOARD POWER
VELOGICAL's UNIVERSAL POWER SOURCE is the game-changing system component for comprehensive on-board power supply on bicycles. In one central device, it combines the advantages of a USB charger with the control of generator-powered LED lights. The electronic component in miniaturised design aligns with the VELOGICAL 3-PHASE GENERATOR (variant of rim dynamos) or with classic hub dynamos (6V/3W). Technical possibilities are smartly enhanced with an active rectifier and Multiple Powerpoint Tracking (MPP). Fast charging at any speed. Bright stand light when riding slowly. Safe LED light when driving fast. Power supply even when stationary with battery buffering. Discover the maximum of innovative on-board power supply – versatile, powerful, simple. Especially developed for long-distance cyclists and commuters.
DYNAMO
The rim dynamo is a jewel for LED bicycle lighting. Elegantly miniaturised, it is extremely smooth-running and lightweight and is the efficient alternative to hub dynamos. High-end hub sets remain intact on both wheels. Modernly designed for sporty elegant bicycles. This stable-in-value, long-lasting companion can be retrofitted to bicycles that come without a lighting system as standard. For frame builders, there are separate workflows to integrate the rim dynamos into the original equipment. The patented mounting system has an adjustable contact pressure. VELOGICAL offers special brackets for most mounting situations. A stylish LED light system, fail-safe integrated on a dynamo basis, increases the utility value of bicycles for frequent riders and occasional cyclists, regardless of the time of day and weather. The discreet design makes LED lighting culture on the bike interesting.
The Velospeeder convinces with a well thought-out drive concept, with the help of which existing bicycles can be retrofitted to a fully-fledged e-bike at manageable costs. This facilitates and promotes the urgently needed changeover from cars to more resource- and environmentally friendly individual mobility.
MANUFACTURE FOR ELECTRICAL COMPONENTS ON BICYCLES
Innovative energy supply for bicycles is what motivates VELOGICAL. In our manufacture, we develop and manufacture miniaturised bicycle electric components, focused on high customer benefit, unique technical features and ecological advantages. We manufacture the ultra-light bicycle motor VELOSPEEDER and complementary tiny RIM DYNAMOS for LED bicycle lighting as well as the associated ON-BOARD POWER SUPPLY for charging via USB charging and optimisation of LED lighting systems. Our target group are bike commuters, touring cyclists and sports cyclists who need high-performance equipment. – Attention. VELOGICAL products are addictive!
What the press says about VELOGICAL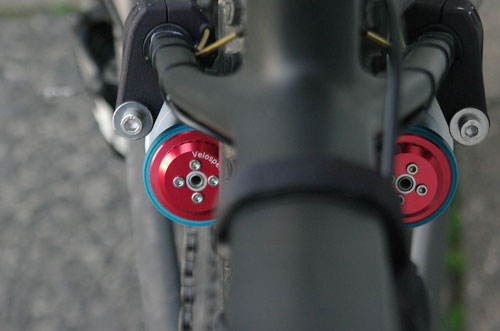 E-BIKE MOTOR ULTRA LIGHT
Produkt set rim motor
The light riding experience with the VELOSPEEDER is a pleasure. Accelerate nimbly and maintain a brisk cruising speed with ease. Each motor set is individually configured, adapted and adjusted for the customer's bike. Thus we guarantee the custom-made quality of the motors from our manufacture. The product design excels thanks to the concentration of the construction to a minimum of moving parts and its low raw material consumption. The sustainability of this product is based on the efficiency of the design, together with long-lasting, functional reliability at a low maintenance level and a very good energy balance.
ON-BOARD POWER SUPPLY

Produkt set on-board power supply
The UNIVERSAL POWER SOURCE is a USB charger & a control unit for bicycle lighting. It is fed by the 3-PHASE GENERATOR (variant of the rim dynamos), or by classic hub dynamos.
At the USB output of the charger, smartphones or tablets can be recharged efficiently and fully charged while GPS-navigating.
The control for LED light improves the function during slow and fast riding. It optionally enables operation of dynamo LED lighting (AC/AC) or e-bike LED lighting (DC/DC).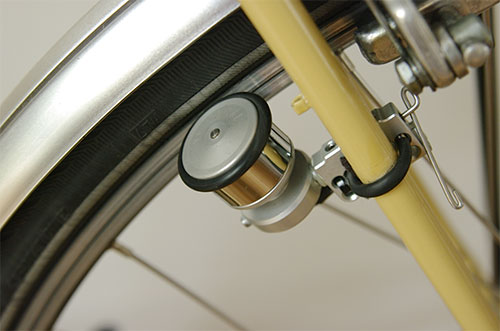 DYNAMO MINI FOR LED-LIGHT
Produkt set rim dynamo
The elegantly miniaturised DYNAMOS by VELOGICAL are designed for classic LED lighting. They operate with alternating current/AC, as is usual for dynamo-based lighting systems. Without any disturbing friction resistance, the VELOGICAL DYNAMOS run extremely smoothly on the rim flank. If necessary, they can be folded away completely. With a dynamo, light is permanently available when needed. See and be seen safely at any time of day, not only in the dark. For years, among vehicles on the road, cyclists included, there has been an ongoing trend towards daytime running lights. A dynamo light system is the face of the bicycle.