VELOGICAL RIM DYNAMO
Smooth Running – Lightweight – Efficient
The VELOGICAL RIM DYNAMO is an extremely lightweight high end LED lighting power system for bicycles in a miniature form-factor. Its 'hard skills' are extremely smooth running (low drag) even at high riding speeds, minimal weight and high efficiency for use with modern LED bicycle lights. This compact dynamo genuinely weighs less than a mere 75g! And it operates with minimal resistance, below the perception threshold. Thanks to highest electrical efficiency it supports passive safety in traffic while working as a daylight running light, too. This patented bicycle dynamo for LED lighting has been developed especially for the requirements of sports-oriented cyclists and year-round cyclists.
VELOGICAL DYNAMO
AT A GLANCE
Extremely smooth running (drag below the perception threshold)
Minimal weight and miniature form factor ∅ 75g (depending on the bracket)
Extremely high efficiency
Latest materials technology and high power rare earth magnets
Preservative use of raw materials
Disengageable (by folding away)
Retrofittable and universally compatible
Optimised contact surfaces, rainproof lighting 
For LED lights with metal cooling surface (40 lux and more)
Simple Requirements for the VELOGICAL DYNAMO
Powerful LED front lights from 40 lux and more with metal cooling surface or metal housing. 
Light installation with VELOGICAL thermistor (overcurrent protection).
In combination with the additional overvoltage protector SHIMANO "SM-DH10A", additionally to the VELOGICAL thermistor every LED bikelight can be used.
Suitable headlights are offered by, for example, manufacturers including SUPERNOVA, B+M (Busch+Müller), HERRMANS, TRELOCK or SON (Schmidt Maschinenbau).
When combined with VELOGICAL-approved LED cycle lights, the VELOGICAL DYNAMO will demonstrate impressively just how much power lies within, delivering night-time illumination ideal for navigating unlit cycle routes even at high speed – and of course also for general safety purposes in traffic.
Fitting to special bikes and unusual cases
For framebuilders & professionals
Check feasibility first

Special cases often possible by special adaptations or brackets
Please have tubing dimensions to hand:
– Velomobiles
– Recumbents, trike designs with diagonal seat stays
– Special bikes with unusual frame to wheel distances
– Spacers on demand
Check barriers:
– Reverse mounted brake bosses on front forks pointing to the rear
Specially with small wheels (20 inch and smaller)
– Please ask for a special adjustment (no additional costs),
– Please look for potential conflicts with stays by fenders and racks

Special cases NOT universally possible to fit:
  – Shaped tubing with sharp corners (hydroformed)
  – Extreme oval tube profiles
  – Narrow placed brake bosses cantilever generation 1 early 80ties 
  – Recumbents, trike designs with horizontal seat stays
In the box
– 1 Dynamo, type selected when ordering
– 1 Special bracket, type selected when ordering:
Brake boss adapter left for brake boss fitting,
Left mounting or rear right mounting;
Brake boss adapter right for brake boss fitting,
Right mounting or rear left mounting;
Brompton adapter front right fitting reverse,
Version steel fork OR version titanium fork;
Tube adapter short 10-20mm Ø frame tube attachment;
Tube adapter medium 20-32mm Ø frame tube attachment;
Tube adapter long 32-46mm Ø frame tube attachment;
– 2 O-ring /drive wheel for fast riders
– 2 O-ring /drive wheel for normal riders
– 1 Thermistor
– 1 Set heat shrink tubing
– 1 User manual
– 1 Allen key 2mm Ø  (hex key)
All specifications are subject to technical change.
Installation & maintenance note
! Before installation grease the brass tube / torsion tube and the dynamo borehole with bearing grease by help of a tooth pick. 
Don´t wipe away the placed grease on the parts when unpacking !
Certification, StVZO Regulations and Design Interpretation
VELOGICAL obtains a StVZO approval according german law regulation for all three dynamo variations. According to the certification the requirements are met to the power class of 6V 1.5 watts at 15kph (9,3mph) on a digital load according DIN 33958, the new neutral simulation of LED lighting.

The performance of an LED bicycle light with light-based overvol-tage protection is characterised by the light output at particular speeds and not by a defined voltage curve at particular speeds. The possibility of storing power for standlights and slow riding is also implemented in many LED lights. 
Efficient and powerful on-board electrical supply (for USB sockets, buffer batteries, on-board electronics devices) can best be achieved with a free-floating dynamo voltage, from which the necessary power can be extracted as required. Thus the power production within the dynamo, and regulation technology outside it, should sensibly be strictly separate.
Compatibility
The VELOGICAL DYNAMO is compatible problem-free with all types of hub, any wheel size and type of tyre, without any restriction of functionality and without any painful extra costs from special adaptations. For special applications we will be happy to advise on cable routing questions. Please contact us.
Assembly accessories: lamp brackets including handlebar mounts
rm (Riese & Müller) lamp bracket for handle bar and for suspension fork (head tube)
B+M (Busch + Müller) dynamo bracket (position long side outside) for horizontal lamp mounting with steel forks
SON (Schmidt Maschinenbau): Products, Accessories
Spanninga: dynamo light accessories
www.fahrrad.de: cycle accessories, "Mounts"
Komponentix Onlineshop: front lights category,
accessories for front lights (at the bottom)
Charging Mobile Devices
Charger for VELOGICAL RIM DYNAMOS
Models Trekking, Sport (version for alternating current / AC):
Busch + Müller E-Werk + cache battery
VELOGICAL ON-BOARD POWER SUPPLY (Energy System 2-Part)
USB charger & lamp control function + special generator:
UNIVERSAL POWER SOURCE & 3-PHASE GENERATOR
Alternative 
Version UNIVERSAL POWER SOURCE for hub dynamos
(Not recommended for VELOGICAL RIM DYNAMOS)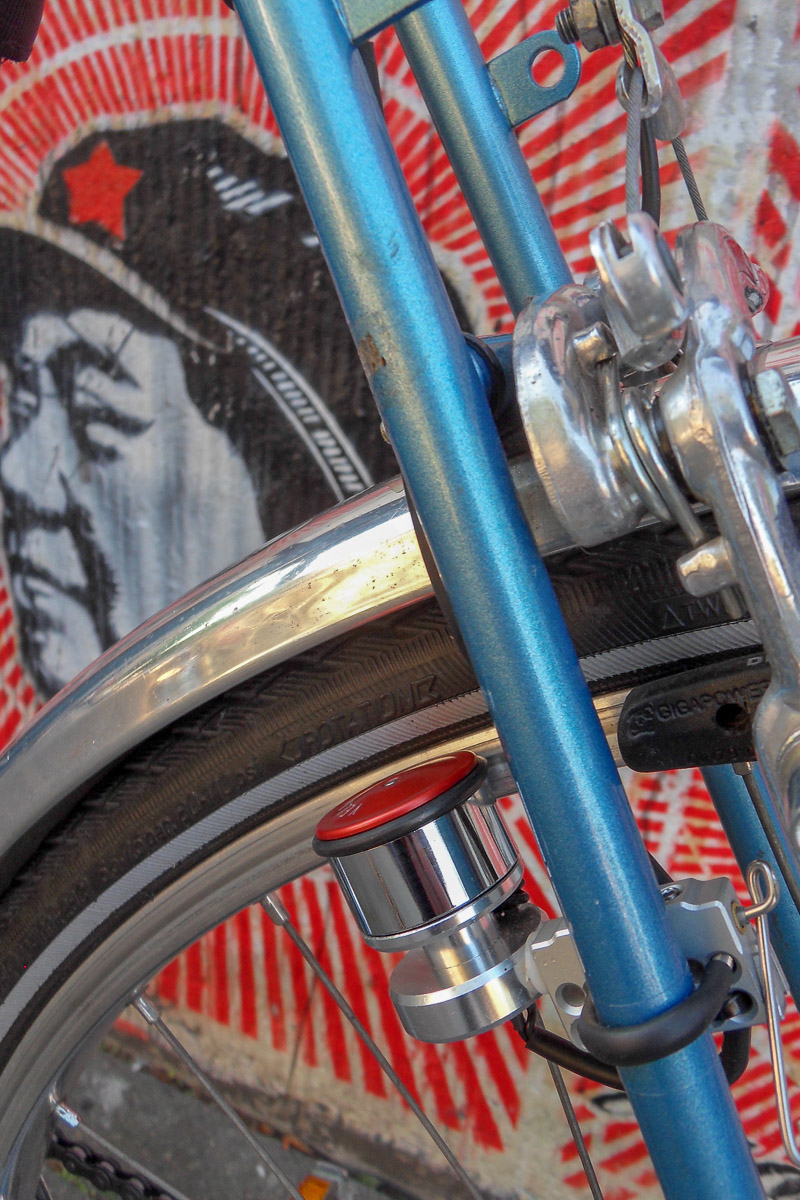 How the VELOGICAL RIM DYNAMO works
The VELOGICAL bicycle dynamo is a so-called rim dynamo, because it runs on the flat braking surface of the rim. The design of the adjustable bracket achieves optimized contact pressure with minimal contact patch. The miniaturized VELOGICAL DYNAMO with its remarkably powerful output is an alternative to hub dynamos. In doing so, the VELOGICAL DYNAMO runs without wear on the rim wall, and can also be driven without problems on carbon rims. The internal mechanism of the VELOGICAL DYNAMO is practically wear free. It works with unobtrusive reliability, producing energy for LED lights even in the wet. 
With the VELOGICAL DYNAMO, weighing a featherweight 75g(!), you also save on the effort required to compensate for the approx of a heavy hub dynamo or the extra weight of powerful battery lights. 
And don't forget: with a side-running dynamo, when not being used it can be disengaged entirely, while a slow and ever-turning hub dynamo is always operating, slowing you with its magnetic drag: a constant effect, even when the lights are switched off.
The VELOGICAL DYNAMO is not only highly energy efficient, but also universal compatible and retro-fittable. Cycle aesthetes and sports riders who want to appreciate the benefits of this next-generation dynamo-powered cycle lighting system can, it goes without saying, keep their carefully-selected high-tech wheelsets intact without replacing the front hub for a hub dynamo.